Day 12
OUR REPORTS ARE IN DETAIL, UPDATED AS IT HAPPENS, FROM OTHER DIRECT SOURCES
MONDAY, 30TH JUNE, 2014.
Another dramatic performance?
70 + people lined up, to watch GBC's performance today.
People  have been lining up since dawn.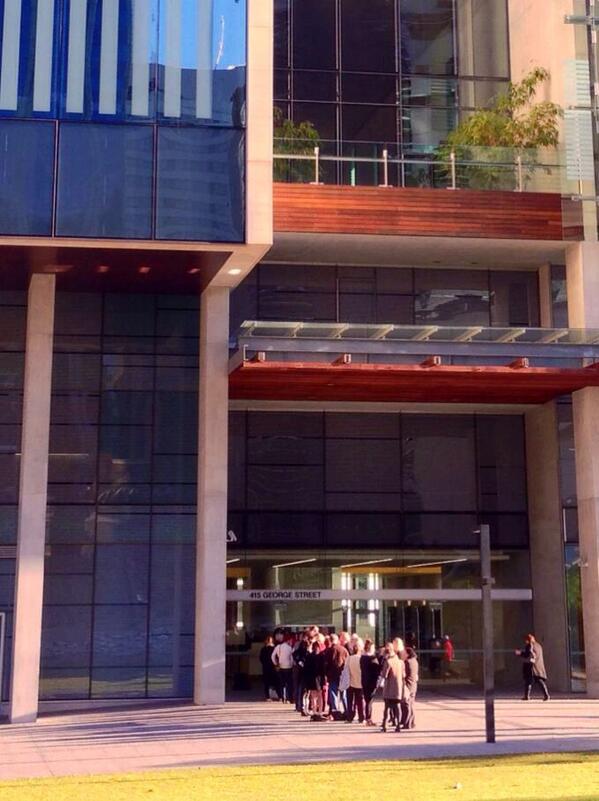 Gerard Baden-Clay has taken the stand.
"When I began work as a real estate agent, it put a strain on Allisons as I worked with my parents, I could be home at 5pm for what we called "happy hour."  Happy hour was when we bathed the girls and gave them dinner, I did it most of the time.  Allison often went straight to bed when I returned home.
My parents and I soon started our own real estate business, opening the Century 21 franchise.  the business was initially me, my parents and a woman who did the front office/admin duties.  I developed a close business relationship with Charles Tabey, the Century 21 owner.  We built the business and became very successful very quickly.
The home front as this point was not great, as Allison wasn't coping well with two young children.  Allison would often call during the day saying that she needed me so I would drop everything and go home.
I became the local chamber of commerce president in 2005.  I would take one of the girls with me to breakfast meetings to give Allison a break.  Unfortunately, my relationship with Allison deteriorated quite dramatically.  We put on a facade of being all together, which was very draining on Allison.  We communicated less and less and less.  The medication assisted with the depths of her depression.  It assisted with smoothing out the lower ends of her mood but knocked out the higher end too.  She was a lovely energetic person when we met.  But she became much more withdrawn.  She was just like a blurrier image of herself.
GERARD IS CRYING ON THE STAND AGAIN.
The anti-depressants caused Allison to lose her libido and their sex life became non existent.  Allison wanted to have a boy for his sake, to carry on the Baden-Clay name.  Allison just really wanted to have a son.  I really didn't want another child.  After the challenges of Allison's previous pregnancies and the financial pressures, I wasn't keen.  Allison became quite depressed about having another child  I just wanted to make her happy.  I always just wanted her to be happy.
HE IS CRYING AGAIN
As soon as she found out she was pregnant, her mood lightened immeasurably. "
Gerard was asked why he cheated on Allison.
"I just wanted sex.  I cheated with a woman from work.  It lasted a month.  We both wanted it for the same reasons – just the sex."
Gerard is boasting about his business again, "It was going terrifically well", hiring new staff.  We were making money and investing it back into the business.  We charged the maximum fee for selling.  We bought high end printers so that we could print our own colour brochures.
Allison fell pregnant in 2006, her mood brightened a lot.  I was quite relieved as I knew about having girls, I was worried about Allison.  We started to see similar negative mood swings, Allison was seeing her psychiatrist.  We organises to have a caesarian to take away the psychological pressure of the birth for Allison.  I warned her psychiatrist it was going to be a girl as I was worried about  the backlash.  When we had a girl, Allison was initially in shock, and I was delighted and wanting to convey that to her."
Gerard is crying again.  "I can't imagine life without our youngest daughter, she is such a beautiful little girl.  Allison bonded with her too."
It was my vision to have seven real estate offices across the western suburbs.  I suggested in 2007 that Phil Broom buy into the business.  I'd trained with him in the way we were doing things.  We also brought in Jocelyn Frost, Century 21 salesperson of the year for Queensland.  The three of us decided we would become equal partners in the business.
I would take the girls to school and kindy.  I took the youngest to breakfast meetings.  Allison was at the point where she was throwing all of her energies into the children and getting progressively better.  Allison was able to take the children to ballet but it took a lot out of her emotionally and physically.  I would still receive calls to go home, often, it was just a hand off and I would look after the girls.
Allison didn't have any interest in any physical intimacy at all.  I didn't want to force her or put her under pressure.
By 2008, Toni McHugh had been working for us for about a year.  We began a fledgling property management business.  I asked Toni to look after it.  Toni resumed being a salesperson, we developed more of a closer relationship.  Toni was having some problems with her own relationship.
I tried to assist and counsel all of my staff with their issues.  Toni and I started a physical relationship, I think for both of us, it was purely for that.  The business was going great.  I wasn't having any physical intimacy and I had started that relationship.  It started one night in the office when we were both working back.  We met for trysts "in my car".  I tried to break it off with Toni on numerous occasions.   Sometimes I was successful for days, sometimes for a month.
My physical relationship commenced with Toni on 28th August, 2008.  Toni assured me that she had broken up her relationship for me.  It was only a physical relationship, I didn't want any more.  Toni wanted me to divorce Allison and start up a relationship with her.  My loyalty, it doesn't feel right using that word, my loyalty was to Allison and my children.  I didn't want to jeopardise that.  Toni was a good salesperson and I was worried about the impact on the business if  I was separated from her permanently.  Toni pushed for things, I'd say whatever she wanted to hear.  It was always me who broke up with Toni, as I'd say that there wasn't a future together.
There was an occasion where Toni travelled overseas.  I hoped that that would be the circuit breaker.   I was with Toni primarily for the physical intimacy.
Meanwhile Allison and I were having challenges in our relationship that we wanted to work through.  We went to see a marriage counsellor, I did not reveal the affair as I was ashamed of it.  Allison didn't find the counselling particularly constructive.   Allison felt the counsellor was taking my side.  Allison found a different counsellor for us to go to.  Allison kept affirmations for years,  she would tell herself, "I'm not depressed, I'm not depressed".  If things turned bad she could relapse to her lowest levels.
We now have three children.
We knew from our work with the psychiatrist that she had depression and needed to know how to cope with it.  There were times when I was working and Allison on the surface was back to her capable self.  When I was there, she would rely on me to do just about everything.
As the business continued to grow, I  had more of an expectation that she would be able to do more.  As it was, we were almost living separate lives.
I wanted us to be together as a family forever.  Allison kept telling herself that she wasn't depressed, but she did know the triggers for  her depression.  Allison had a psychology degree, but she didn't want to reveal a weakness when she wasn't feeling the best.
I would programme routes into the car's GPS if she was going somewhere new.
Triggers might be something somebody said, or flashbacks to certain situations.   She would take 100mg Zoloft if she felt that she was coming up to another trigger.
Joceyln, Phil and I started the partnership together in August, 2008, and I took responsibility for the management of the business, and of hiring staff, etc., the business kept growing and becoming more successful".
GBC is listing his successes and awards.
"We were the number one office in Queensland, number 10 in Australia.  Phil and Jocelyn at times were being paid $5,500.00 a week.  I don't want to cast aspersions, they tended to buy flashy things.  In 2009 Phil and I bought matching vehicles on a whim.  The first time I test drove my car was when I owned it.  Jocelyn's key thing was jewellery, travel and clothes.  There wasn't much reinvestment in the business.  The partners were talking about opening a second office instead they decided to open one large central office in a good location.   I was tasked with finding the new office.  We eventually agreed on a business on Swann Road, Taringa.
I always made sure that the liabilities of the business were separated from us as individuals.   They had access to the new building from November or December, 2010.   From September, Jocelyn and Phil stopped selling.  We had massive outflows and the two main sales staff stopped selling.  We weren't able to pay ourselves anything.
On 10th January, we brought in nine new sales people, with a total team of around 27 people.  My job was staff training all of them in two weeks.  The floods came in the middle of that.  The core catchment area for my business was the area most affected by the floods.  I joined the Mud Army cleaning Moggill shopping centre.  My parent's home was under water.
Many of the banks refused to lend money to people, which affected their business.
The effect on the new business was catastrophic.  Things were difficult already due to moving to a new building and Phil and Jocelyn not selling.  Phil and Jocelyn's attitude was to shut this off and go into liquidation.  Their other idea was to sack staff and try to hold out.  There were heated discussions, and our partnership relationship completely broke down.  I offered to buy them out.  In my view, it was a very sweet deal for them.  We had a contract and I bought them out for a dollar each, they were to continue in the business as sales people.  I put them on an incentive plan.  Phil stayed, he never met any of his targets.  He left the business towards the middle of 2011.  Jocelyn insisted on having the first $10,000.00 bonus payment upfront and left as soon as the cheque cleared.  After all that, I owned 100% of the sales business and 25% of the rental business.  I wanted to own the whole of the rental business as it would give us stability.  I arranged to buy it from Ben Bassingthwaite for 25% and Jocelyn for 50%.  Ben left the business at the end of 2011.
We valued the rental business at that point at $400,000.00.  I wasn't able to get finance to buy the rental part of my business.  Ben and Jocelyn agreed that I could own it in January with a 10% deposit and interest payments and pay in June.  I could have had a 90 day extension if I wanted.  I paid Ben $10,000.0o and Jocelyn $20,000.00 as a deposit."
Gerard is talking about borrowing money from friends and losing partners after the floods.  Gerard wanted complete control over the business as a condition of being lent money.  He borowed $90,000.00 from each of  the poor suckers.  They had an active roll in monitoring the business.  GBC's friend Rob was to sign off on any expenses, after being given weekly reports.
GBC, "I was very confident in the viability of the business.  I saw the floods were certainly a drastic anchor and halt to how things were progressing but that would change.  It was not an instant turnaround after borrowing the money, but things certainly did slowly improve.  We were definitely tracking to be in a stronger and stronger position.  I was still having an on again off again affair with Toni in 2010.
I had a relationship with another woman from previous times who was also attending the conference, and we got together.  It was a physical relationship, it was the only time I had sex with her.
Jocelyn approached Toni to ask her whether she was having an affair with me.  She denied it, then acknowledged it.
 I admitted to them that there were occasions when I was effectively sleeping with Toni for the sake of the business.  This got back to Toni, she was quite justifiably very unhappy about it.  We got back together for the sake of the business.    
In September, 2011, Allison phoned me wanting to meet with me.  I was at the office, Allison said that she wanted to talk.  I sensed straight away what it was about.  I suggested that we meet at Indooroopilly McDonald's which is not far from the office.
GERARD IS CRYING 
She came straight out and asked me if I was having an affair with Toni and I said yes.  I was in disbelief she had been told about it by her friend Wendy, she couldn't believe it.  When I acknowledged it, she was in shock.  She didn't yell or shout or anything, that's not Al.
Allison got out of the car and sat on the kerb.  I got out and sat next to her.  She had her head in her hands. "
GERARD IS SOBBING .  "She might have felt physically ill, but she didn't vomit.  Allison asked whether I loved Toni, she told me that I had to make a choice.  There wasn't a choice, I ended it, Allison didn't want Toni coming back to the business.  There wasn't any yelling or shouting, I put my arm around her shoulders and she shrugged it away.  I was not sure what Allison did after that, she may have gone home.  I called Toni.
We met at Toni's unit, I told her that Allison had found out and that I had decided to stay with my wife.  Toni was angry, she yelled and screamed and threw things at me.  She called me "scum of the earth."  Toni told me that she wouldn't return to work and that I  had ruined three years of her life.  I tried to calm her down, Toni yelled at me to get out and that she never wanted to see me again.
I returned to work, I went to see my staff one by one to tell them about the affair and that Toni wouldn't be returning.
I told the principal at the girls' school about the affair, I didn't want him hearing through the tuck shop rumour mill (and the principal told the teachers who were gobsmacked, lol).
Things with Allison and I were very uncomfortable at first.  Allison said that if I was committed to her, I needed to submit to some conditions that she had.  I wasn't able to go to any night time appointments unless she approved of them first.  Allison had access to my phone, when I came home, I was to hand her my phone, Allison would check texts and calls.  Allison would give me the phone if it rang, and would read texts, she would give it back in the morning.   I brought Allison into the business and gave  her the title of general manager.  Allison was very nervous about coming into the business as the wife who had been cheated on.  I spoke to all the staff to tell them Allison was coming in, I asked them to be mindful of Allison's situation.
Our youngest was in kindy in 2011 but started in prep in 2012.  Allison worked school hours, three to four days a week, but would stay longer on a Friday.
Toni texted me numerous times after I broke it off, all of which Allison saw.  She tried calling, she rang a couple of times from a private number, I basically said nothing and just hung up.  I heard Toni was really struggling, I felt a great deal of responsibility for that.
It was around Christmas time, I wanted  her to know that I didn't hate her.  We met at a coffee shop, Toni asked me if I loved her, she was very fragile, I told her that I did.  Toni improved a little bit and got a new job.  Toni didn't like what she was doing, she told me that she'd had an anxiety attack at work and passed out. I was obviously concerned about her.  Toni and I met on a couple of occasions and there were two occasions when we did have some physical contact.  I can't remember that last time I saw Toni before Allison's disappearance, two or three weeks before.  February, maybe January, 2012, was the last time I had sex with Toni.
Toni called me, I never called her.  I would delete the calls from call history.  I would email Toni from my Bruce Overland account, I set it up years ago before for real estate things."
GBC, we sublet, this reduces our rental overhead.  He and Allison discussed the future of the business at length, it gave us a bit of a connection.  Allison had a registration certificate but they looked at training her up as a full licensee.  If she was a full licensee, she could have been made a director of the company.  Discussing  now the workings of the business in 2012.  March and April, 2o12 things were looking "very positive."  In April, $150,000.00 in sales revenue came in.  Allison handled all their "personal stuff".
"I learned she made investigations into her life insurance and super.  Charles Tarbey had offered to give me a hand if I needed it.  He introduced me to his bankers.  If I couldn't secure funding for the business, Charles could have lent me the money or bought in.  I didn't have to use Charles Tarbey, so I approached other people to borrow money.  The general figure was $400,000.00, I asked Dr Bruce Flegg for the money around Christmas.  I knew that he was independently wealthy, although Flegg wanted to go into more detail that I wanted.  Dr Flegg had just bought an apartment in New York and told me once that it was completed, he'd be in a  better position.
I also approached other people.  I don't want to say their names.  A former client wasn't able to lend the money.  I called Dr Flegg in March, really to just say, where are you at?  Flegg didn't answer, Sue called me back.  I told Sue that I wanted to ask Bruce if he was in a position to lend me $300,000.00.  Sue asked if I was o.k., I broke into tears because nobody ever asked me if I was o.k. and I was touched by that.
I had a lot going on, I was trying to rebuild the business, were were very keen to buy out the rental side.  We had three children at school.
Allison went to see a marriage counsellor in Bardon.  She saw her three times, we didn't really feel a great connection with her.  The counsellor talked about the trauma that Allison had been through and some of  her suggestions were out there.  The next person we saw was Carmel Ritchie.  Allison first went alone and liked her.   we only saw her together once, Monday, 16th April.  I thought we'd go in together, but Carmel asked me to go in first.  I was asked to fill in a standard form, details about myself.  I told Carmel about my business, my involvement in organisations, and my children.  I was a little taken aback when I first went in, but then I relaxed a lot.  Carmel then raised the subject of the affair.  I told her I would do anything possible to help Allison.  Carmel told me that Allison needed to ask me questions about the affair.  I was a bit resistant at first, I didn't thin it was helpful to have all these issues running around and around.  Carmel explained that they structure and formalise it to 15 minutes every second night.  My job was to answer questions and listen to any feelings Allison may express.  Allison came into the room for the last little bit, they confirmed the arrangements.
Allison asked me if I was happy with Carmel and I said, yes, she's the one.  That discussion formed most of our 15 minute session that night.  I was at the point where I was doing my best to distance myself from Toni.  I wasn't seeing or calling her.  I was responding to her emails and answering her calls. "
Court – Email from Toni to GBC sent 20th February, 2012.
The email says that she is disappointed and sick of hiding.  Gerard said at the time that  he was trying to distance himself from her.  I was trying to explore with her her passions and interests because she wasn't happy working in real estate.  I was encouraging Toni to move overseas and teach.  She liked Dubai.  I was trying to encourage Toni to do something else and preferably go away.  Toni had a volatile personality, which was expressed  here in the email.  My weakness is that I tend to roll over and say whatever she wanted to hear.
Adjourned until 2:30pm
Court has resumed, GBC is talking about his relationship with TMcH.
"I never intended to leave my wife.  With Toni, I pretty much agreed to anything that she asked to keep her happy.
Court – email between GBC and TMcH 27th March, 2012.
GBC explains that the email is more pressure from Toni to get him to leave his wife.  When asked about the date GBC gave Toni, GBC responds with, "I don't honestly know where that came from.  I anticipated that the time would come and go and Toni would be frustrated by that.  I wanted her to leave me.  I believe that Toni could get on with her life better if she was the one to break things off."
Court – Email from GBC TO Toni where GBC said that he had given TMcH a commitment and he intended to stick by it.  This email also states that he will be separated by 1st July, 2012.  Gerard says, "I love you, leave things to me now".
GBC, "I meant none of it, I was trying to calm her.  Allison and my first 15 minute session was on the Monday night, but it was mostly talking about the counsellor.  They bought takeaway coffee from McDonald's and drove to Mt Coot-tha.  Allison brought her journal with a number of questions that she wanted to ask me.  Things had been improving, so things were O..  We spent about 20 minutes, maybe a bit more, in the car.  Allison didn't finish all the questions she asked.  Allison must have been keeping an eye on the time, as she told me when to stop.  I just had to answer specifically the questions or listen to her feelings.  We were sitting in our seats in the car, turned to face one another.
Allison told me that she was feeling very sad about what happened and asked if she could ask me some questions.  It was not the first time we had discussed the affair, we had talked about it many times.  One of the themes Allison would ask about is where Toni and I had been intimate.  I had already told her that I'd had sex with Toni in the Prado, she refused to drive it after that.
Court – Allison's journal – List of her questions
Gerard, "The questions crossed out on the page are the ones Allison has asked me."
Questions:
1.  did they go to the movies together, did they have dinner, were they scared of being seen, did they kiss and hug?
GBC, "we would go to the movies in Toni's car, I was terrified of being seen.  We didn't kiss or hug in public.  On one occasion Toni and I drove together, other times in convoy to a secluded spot.  I didn't lie there with Toni afterwards.  We just went home, or I would go back to the office and work.  Allison asked me to draw out the layout of Toni's apartment.
The drawing has a bend because I drew it resting the journal on my knees in the car.  Allison asked me what we had done for Toni's birthdays,.  I can't even remember when Toni's birthday is.  There were a couple of times where we'd stayed in a hotel together, Toni paid.  Allison asked me if Toni had felt bad about me being married.  I said yes, but only because Toni wanted me to divorce. "
Question, "Do you regret the whole thing or just being caught?"
GBC, "I regretted it very much indeed was very, very remorseful.  I was very grateful for the way she was handling things.  We went straight home, when we returned home, my parents were watching TV.   There was some discussion about our new nephew being born and Allison went to bed, leaving me with my parents.
THURSDAY, 19TH APRIL, 2012
I had a chamber of commerce meeting that morning.  I left first thing int he morning for that.  The plan was that Allison would drop the girls to school on her way to work.  The girls had cross country after school that day.    the boxes of toys in the rear of the Captiva were from a clean out of the house.  We sorted through the girls' toys and clothes to gather what we no longer needed.   The mother of one of my daughter's friends was giving them to the RSPCA's op shop.  Allison was going to take the final lot of toys to charity but they were loaded into her car. "
COURT – Photo of the baskets of toys in the rear of the Captiva.
Gerard is listing the toys in the rear of the car, dolls, toy stroller, walker.
GBC, "I believe they were placed in the rear of the Captiva on the morning of the 19th, I didn't do it."
Question, "Do you have any knowledge on how Allison's blood got in the car?"
GBC, "None whatsoever.  Allison had a meeting with a property management expert.  I don't know why I had a bloodshot eye that day, it happens once a month.  That afternoon I went with my sister and her children to the cross country to see the girls.  I was standing under the trees talking to a friend when something bit me, stung me, I don't know, on my neck.  I scratched at it.  I then had a spreading itch all over my chest.  Someone gave me Stingose and someone else an antihistamine.
Court – photograph taken of GBC at the cross country.
GBC, "I do not know what bit me.  Someone said it might have been a caterpillar but I never saw it.  It might have been a spider for all I knew. "
GBc, "I was introduced to the trainer who'd been with Allison that day.  My friend Rob Cheesman had his property on the market.  I went around on the 19th April to fix the light.  I was replacing the light fitting with a screwdriver.  The screwdriver slipped and cut my hand.
I had a parent teacher interview at 4:00pm back at the school,  Allison couldn't attend.  I took notes on my phone during the interview which I later shared with Allison.  Mum and Dad picked the girls up from school that day.
Allison had a hair appointment around 5:00pm that day.  I picked up the children from my parent's house.  Allison was home when we returned home.  The girls went to bed pretty much straight away when we got home.  That night, we both put the girls to bed, which wasn't unusual.  We went in separately to say goodnight.  I would usually go last as they would settle more that way.  Allison would pray with them and sing them a lullaby.  I also made up a little song that I would sing too.  The song was the end of bedtime.
Allison and I spoke about our day, about the cross country, about the parent teacher interview.  We discussed plans for the following evening.  We planned on a sleepover for the children.
Allison had two follow up questions for me from the night before.  I remember the one remark that Allison asked.  The questions weren't done in an aggravated way.  She had asked permission first.
Allison was wearing blue and white pyjamas.  She had on a sloppy joe over the top and blue hiking socks.  I changed into a T-shirt and boxer shorts.  I put on running shoes to iron because it was comfortable.  I felt that I had a cold coming on but otherwise I felt fine.  I gave my phone to Allison when I got  home that day.
I did not put my phone onto charge in the middle of the night.
I had spoken to Toni that afternoon, she called me.  At the end of the call, I would delete it from call history.  I woke up a little after 6:00am the next morning, I'm a very heavy sleeper.  I snore quite loudly.  I woke instantly if the children move but I have no idea whether Allison came to bed that night.   I woke up and Allison was gone.  That wasn't unusual, she often went walking.  It was up to me to get the girls ready, and make their lunches.
I had woken late and was rushing that morning.  It was up to me to get the girls ready and make their lunches.  I was about to shave when I heard one of the girls, I went to speak to her and then returned to shave.  That is when I cut myself.  I ordinarily have a shower first. 
Question, "Please show the court your shaving motion?"
GBC, "The razor was blunt, so I was pushing down on it.  I cut myself the second time trying to avoid the first cut.  I did it a third time trying to miss the first two.
I jumped in the shower, the cuts were still bleeding a little when I got out of the shower.  One of the girls came in and I asked her to  help me put a bandaide on my face, it wouldn't stay on.
I started to become concerned as Allison wasn't  home yet as she had a conference to attend.  I put on her hot rollers as I knew she would want them when getting ready for work.  I tried calling and texting.  The calls went through to her voicemail and I left a message.
Coourt – copy of text message GBC sent to Allison the morning of the 19th April, 2012.
GBC, "Both of our phones had an app whereas we could locate each other using GPS.  I tried using it that morning.  I checked the app but it couldn't locate Allison.  I never went walking with Allison in the mornings because I would never leave the children alone.  I was always trying to get the children ready for school, I called my parents to see if they heard from her.  I was trying to be as calm and normal as possible.
I can't remember if I spoke to mum or dad, but they said that they'd come immediately to help find her. 
I tried to call my friend Sergeant Murray Watson for advice but couldn't get through.  My father turned up, my sister when looking for Allison.  My dad stayed with the girls and I went looking for her for 20 minutes to half an hour.
I pulled over to call my sister to ask if it was too early to call the police.  She said it wasn't.  I still didn't want to panic.  I tried the 1300 number for the police, it went to a recorded message.  I then called 000.  I went straight  home to be there for when the police arrive.  My dad and the three girls were home when I arrived.
The police arrived as Olivia was leaving to take the girls to school.  I had contact with the school  principal, but not until much later.   The police started asking me a bunch of standard questions, we walked inside and sat at the dining room table.  I was asked a lot of questions, the male officer asked if he could look around the house.  I said that I  had nothing to hide.  More senior officers arrived and asked me all the same questions again.  I wanted to be completely open with them when I was asked about any marriage problems.  At that stage nobody in the family was aware of my infidelity.  I asked my dad to leave the house.    They asked me the question and I told them the truth.
I didn't call Allison's parents until later in the morning as I half expected her to walk in the door.  I spoke to Allison's father who said that we'll come up straight away.  I might have told them that there was no need.  I didn't want to be hysterical or an alarmist.  I just assumed that she would turn up.  Dad phoned and said that he was concerned about the line of questioning from police and that I should call a lawyer.
I argued with the lawyer, I didn't care about myself, I just wanted to find Allison.  The initial lawyer but me in contact with a criminal lawyer, named Darren Mahoney.  Darren told me to not give a statement.  I  had been speaking to the police for hours.  I was soon told that the house was a crime scene, I didn't know what that meant.   I was also told that some officers were from the CIB, I didn't know what that meant, either.
I was told to not join the search, police and the  SEs had clear protocols.  I went to my parent's house, and arranged to meet a new lawyer that evening.  The lawyer told me to go see a couple of doctors to get the scratches on my face looked at.
I went to the search command centre with my sister first thing on Saturday morning to see if there was any news.  I was asked to speak to an officer, he said that he would do everything he could to help find Allison.  I just wanted Allison found.
I was taken to the police station to make a formal statement but I changed my mind.  The office was furious.  My lawyer told me to not make a formal statement."
Court – The documentation for the call records.
"I made a call to my friend, Rob Cheesman, I was calling him from my house.  I suspect that I may have just left a message for him.  My mother called me to let me know that they'd collected the children from school on the Thursday afternoon.  A phonecall from Rob Cheesman was probably Rob saying he was busy, could he call his wife and talk to her.
Court – GBC going through calls made that Thursday afternoon.
COURT ADJOURNED UNTIL 10:00AM
Thank you to GerbilHuntingSeason,who quoted:
"A fitting tribute to a man who asked his daughter to patch up his shaving cuts, don't you think?"
Any possible copyrighted material included is property of their rightful owners, no copyright infringement is intended.
 2014 All Rights Reserved